The source for the Merc color codes is the
1962 Ford/Mercury of Canada Collision Body Parts manual
, which I just posted to the Factory Literature Library. This manual shows all the '60-'62 Mercury car and truck color codes.
Page 152
shows the 1961 Mercury truck solid color codes and
Page 153
shows the 1962 Mercury truck solid color codes.
Page 149
shows the possible color combinations, which include the 1, 2 and 3 code prefixes. So I was theorizing that the 2 and 3 prefix denoted the style of tutone, like this, with 2 being the standard tutone and 3 being a 'deluxe' tutone: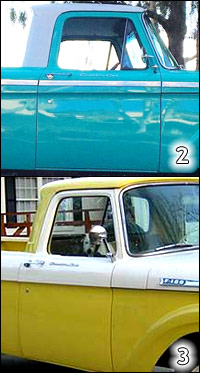 However, the color combination chart on
Page 149
DOES also include the Mercury cars, so now I'm wondering if just the 1 and 2 code prefix was used on cars and trucks and the 3 prefix was only used on cars? I suppose this is a theory I'll have to investigate too...though Merc colors information (on cars OR trucks) is so hard to find that I'm not going to hold my breath on pinning this down. However, if nobody here who's into the Merc trucks has ever seen or heard of a truck with a prefix 3, then it would seem to indicate that this is a car-only code.
At this point I'm open to any and all ideas and/or input.