about 25 years ago my dad bought it for a work truck... when he got it the probably original 292 threw a rod loading it on the trailer, it was jacked up with leafs it as they took it to cut wood everyday. he lowered it enough that it at least would ride somewhat nice while still being able to work it. and then the spicer rear end went out and since he had never messed with spicers he decided to sell it....which he regretted as it was a posi and stuck a '76 9" with wide automatic tranny brakes and and put 2.75s in as his home made overdrive
and after a while he started just using it to drive to work so he lowered it again so it would ride better. In the back of his mind he was thinking about fixing it up, around that time he got the alt and oil gauges out of a dump truck, and he worked at a place that powder coated lighting parts, and they let him put the cluster plate through the line-from what he remembers the standard cab cluster panel was in it when he got it' and not long after that the drivers cab mount fell...so he stuck a 2x4 in to hold up the cab...and scraped the idea of fixing it up as he really wanted a '62 unibody lwb big back glass same year as he is
and with out asking him idk the exact timeline..he doesn't depending on the day
but about roughly 98-00 he decided that after taking the heads off the 292 he stuck in it and seeing that the valves were the same size..and it just didn't like to go above 55 mph well it did but it was slow or something to that affect he said and took a 361, 391 FT bellhousing, timing chain cover and water pump...and got his hands on a .30 over cracked 390 block and used the heads from the 352 out of his '65 f100 that he used to have and built it using the best parts he had laying around he didnt have alot of money at the time. It got drove daily with the 390 for only 4 1/2 years during those I was born and he put some green 67-72 seat belts in for me, got his hands on some new pulll off 90s dodge rims for cheap as they had been sitting in this shop for a while got around to putting them on a few years later. It got to hard to keep the air out in the winter and one day he saw a beautiful purple '95 f150 xlt..the light hit the metallic flakes and he was in love with it... when he told mom he wanted a new truck and she said yes..he already had one in mind
and the 64 got sat aside but wasn't forgotten, when he needed to use it he'd throw a battery in it and it would start right up. As one can assume around 8 years old I started taking a liking too the old ford..well truth is when I was 3 or 4 I liked it but I was so young when he parked it out back I forgot about it, before long I asked and he said ok we'll fix it up for you...I spent alot of evenings after school in the 3rd grade clean out the cab- he had axle parts in the floor' and listening to the radio
. Mind you by this time, 14 years or so prior the drivers cab mount fell... as it was his work truck he could start anytime...when he tagged it again in '08..the floor was weaker than expected and the 2x4 started to bend the floor not long after...fast forward 4 years...there was only carpet between you and the road...we may have drove it gentle occasionally for 31/2 years or so...the weight of the cab was on the gear box so it was a you know what for dad to steer and you couldn't keep the clutch adjusted....we were out of time..it was a long 10 year wait to say the least but now I'm driving it to school...
hopefully I didn't bore anyone...just trying to explain it the best way I can with out being to long, but not leaving things out
Currently it a .30 390 with a FT bellhousing and water pump so its a bolt in deal- med rise 4bb, hv oil pump,c6 r heads , ratio rocker arms, f600 steel crank (maybe) I have one though, 4bb), -
- t18 4sp tranny
-factory look 2 speed wiper motor & delay brain box with switch with washer toggle built in. 'Stock look'
-73-76ish? turn signal unit with built in hazard switch
-power assist steering- control valve seals went bad this January right before we tagged it..
-ford 9" 3.25 non posi, wide automatic tranny rear brakes
AND for the record the only dent he put in it was after the '07 ice storm while cutting a tree limb..instead of falling it took the weirdest route and put a crease right in the driver side of the hood...
[/url]
when we first started pulling it apart- mid 2014
[/url]
[/URL]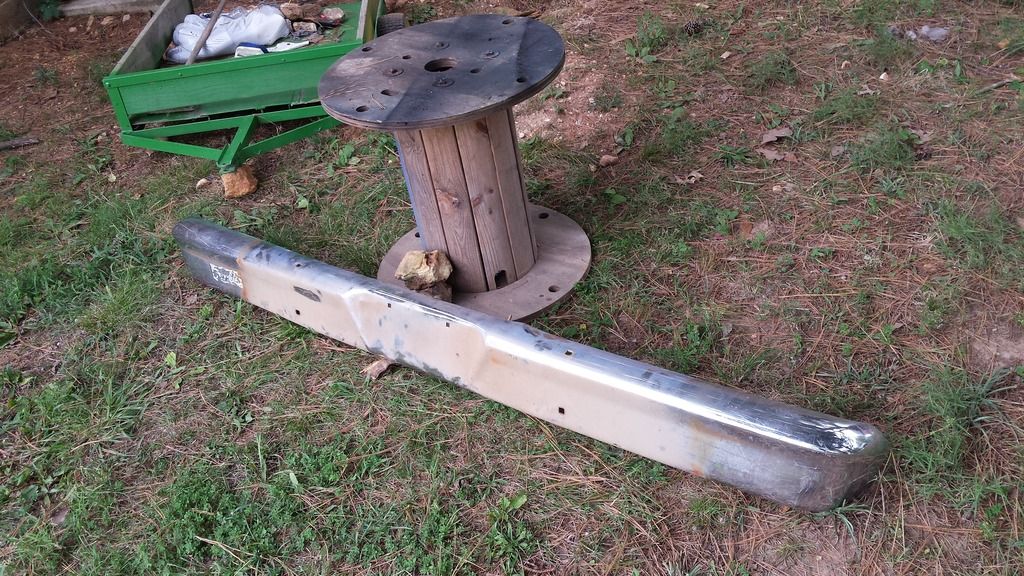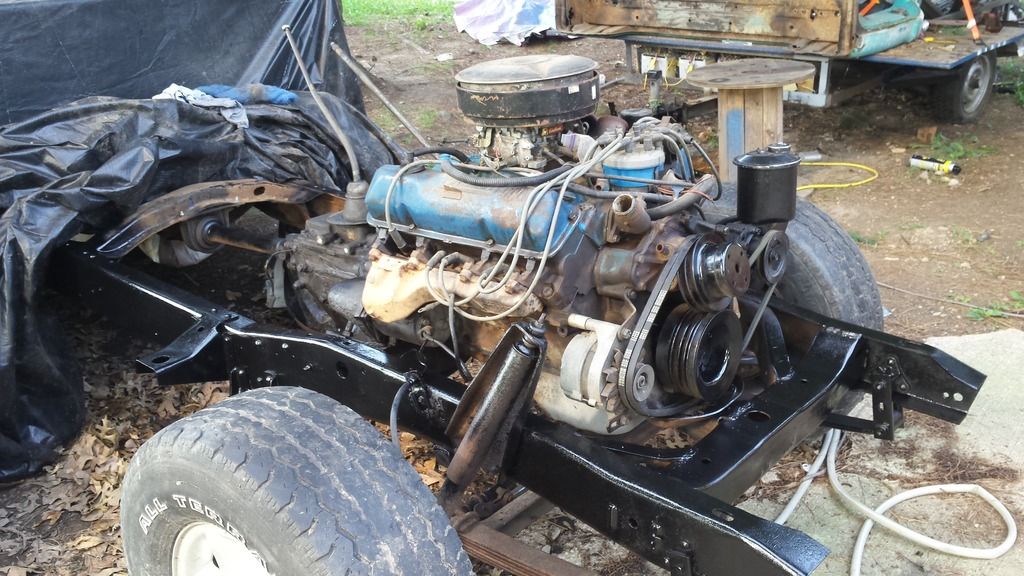 [/url]
[/url]
[/url]
[/url]
[url=http://s32.photobucket.com/user/aj64ford/media/20160706_115941_zpsxes1dl1g.jpg.html]
This is how it looked for 19 years, it had a standard cab bumper with white steel headlight bezels, makes sense when you see that the bumper to grill space valance is bent on the passenger side , so one can assume it took out the bumper, and headlight bezel. around '09 we parted out a 66 and got the bezels off of it. we got this 67-72 chrome bumper off of an 87 year old man, it was under the hood of a 56 ford milk truck which by the way if anyone wants a short bed unibody he has one in a field its probably rusted pretty b bad from being in a hole but it looks like it's all there .
[/URL]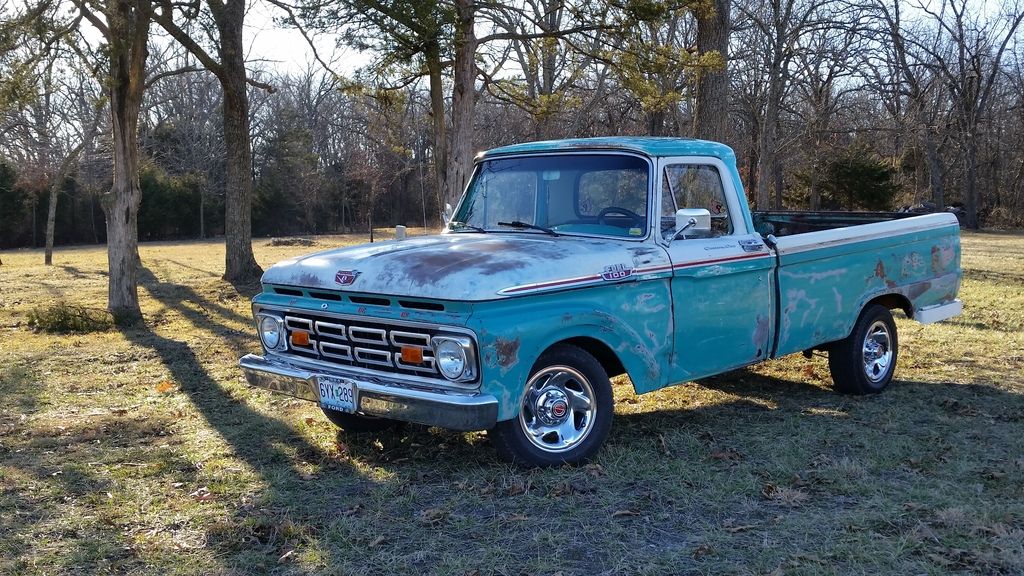 before we started it had no taillight bezels. drivers door trim, drivers behind hood trim, or drivers custom cab emblem ,both cab corner trim, and the passenger bed trim was side swiped hard, no door panel trim or panels, the top headliner was there but looked like crap, the corner pieces were brittle and perforated while the top wasn't. The headliner in it now is out of the 62 f600 other than the corner pieces I got those off ebay 4 months back.
_________________
1964 f100 lwb 292 ECG Heads,4v, 4spd, '76 9" 3.25, orig. :292 3spdO/D, 3.92 spicer locker
19mpg hwy, .040/298ci, arnd 8.7:1, ECG heads, stainless valves, ceramic coated ramshorn manifolds, B code int., eddy 4bbl, Durasprk II/C5ZF dizzy, C2AE rods,high ratio rockers, NOS two groove h.balancer, unkwn cam-for now
soon:pwr asst steering
was FE/FT, mount:390, C6R heads, C4ae int, w/ 361/391 FT Bellhous.,timing cover, & w. pump.
-Back on the road since jan '17