Ok, I know this has already been done quite a few times, but I'll do it again since people are still confused.
I'm borrowing some of this from madmaxetc. all credit for that goes to him.
MadMaxetc wrote:
Type what you want here...

This is where I want my picture(s)...

Right Click on "Album" and "Open In New Window"
[albumimg]266[/albumimg]

Go to "Your Personal Gallery"
[albumimg]267[/albumimg]

Upload your Picture
[albumimg]268[/albumimg]

Then once it uploads, click on the thumbnail.
Then Highlight and Copy the "BBCode" box
[albumimg]269[/albumimg]

and then Paste it into the Reply window you started in!

The thumnail will apper when you Submit or Preview.

PS:
for the "copy" and "paste" operations, you just have to "right click"
now, for how to post pics from other sites in.
go to any site around, or upload your own pictures to
www.photobucket.com
.
find the picture you want to post, right click on it, and copy image address.
an example is the Slick60s logo in the top left of the screen. we'll use that.
now. anytime you want to insert any picture (aside from the ones in your gallery as max showed you) you use these little guys. [img]and[/img] You use them to put your image address between.
so...
http://fordtruk.com/forums/templates/su ... _phpBB.gif
becomes
or, so you can see it:
Code:
[img]http://fordtruk.com/forums/templates/subSilver/images/logo_phpBB.gif[/img]
so you see the [img]goes%20in%20front%20of%20the%20address,%20and%20the[/img] goes behind the address.
and voila! we have pictures in our posts. Anytime you can copy the image address from any pictures on the internet, you can use it in one of your posts. Whether thats the naughty picture of the playmate you fell in love with in 1963, or the Boss 302 Mustang that you left her for.
If you use Internet Explorer, it's slightly different to get the address of the picture.
Right click on the picture, click properties.
Highlight and copy the image address.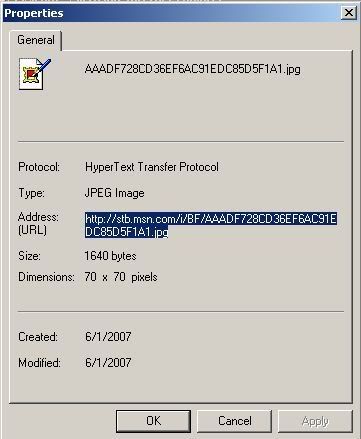 thats all. now just paste whatever image address you want in between two [img]and[/img] and youre good to go!
anyone has any questions lemme know and I'll try and help.